한국어
日本語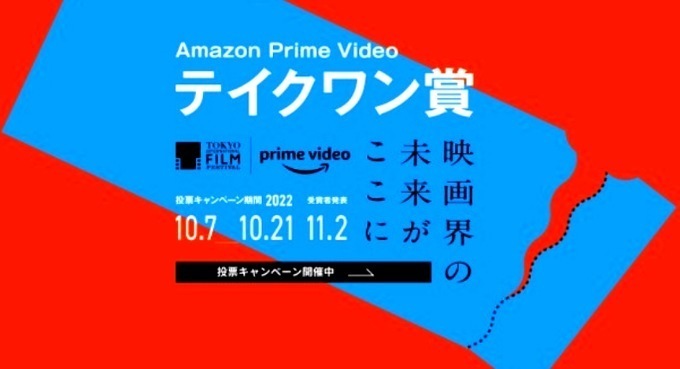 The Tokyo International Film Festival (TIFF) is pleased to announce the Amazon Prime Video Take One Award Finalists. To discover new talent, TIFF started its partnership with Prime Video from 2021 to establish the new award, intended for works by filmmakers living in Japan who have never participated in the production of commercial films as a director, scriptwriter or producer, and whose independent feature films (over 40 minutes long) have never been screened in theaters.
The two-month submission period for the Amazon Prime Video Take One Awards yielded 83 entries of short films (15 minutes or less). After a rigorous screening process, seven films have been selected as finalists this year.
A World I See by Asumi Momoha
Asumi, an eighth grader, is taking a photography class. When she falls into a slump while taking pictures for a photography competition, she takes a dig at Riri, who always takes strange pictures and is the odd one out in the class. Unable to break out of her slump, Asumi goes to her teacher for advice and learns that Riri has dropped out of the photography class.
Falling in Love with A# by Hirota Kohei
Akio visits the Nishimuro family of kimono dealers, to tune their piano. Teru, the eldest daughter, comes to serve tea to Akio and farts accidentally in front of him. She leaves the scene in embarrassment. However, Akio falls in love with her for some reason…
House on the Ocean Floor by Nakajima Shunsuke
Tomari Village, once located at the bottom of the sea, is now a marginal settlement. After the death of his father, Yuichi returns to his parents' house in Tomari Village, where no one lives anymore. Next to him is Takeo, his fiancée, whom he was unable to introduce to his father before his death.
Barefoot by Tanoue hiromi
Ishikawa Hana, a high school student, lives with her older sister Yumi and mother Keiko. Hana seems to be leading a peaceful life at home and at school, but gradually the discord within the family and the frayed environment surrounding her become apparent. The mother is played by Sangoumi Midori, the winner of last year's Special Jury Prize.
Calm Time by Tsuneishi Rino
A comedian called Calm Time continues to appear in small comedy gigs secretly as a hobby. She receives a job offer from a producer of a comedy show. She immediately turns down the offer, but she has her own reasons for not being able to pursue her dream.
Specimens by Wakoh Yuhi
A truant student in ninth grade has locked himself in his room to make specimens. One day, while working in the room as usual, the intercom rings. He reluctantly opens the front door to find a girl from his class standing there.
The refrigerator thief by Yo Enen
A man breaks into someone's house just to steal something from the fridge. One day he breaks into a woman's house and steals her pictures. Then he starts sending her letters…
For the first time, the finalist's films will be streaming on Prime Video's exclusive website which allows more audiences to watch films from October 7 (Fri) until right before TIFF starts. In addition, 2021 Amazon Prime Video Take One Award winner's films can also be streamed.
The finalists will be screened on October 24 (Mon), the opening day of this year's TIFF, from 10:30 am at Screen 1, TOHO Cinemas Chanter. The award winner(s) will be announced at the TIFF Closing Ceremony on November 2 (Wed). Director Yukisada Isao will once again serve as jury president. The winner will receive a cash prize of 1 million yen from Prime Video, plus the opportunity to develop a feature film with Amazon Studios. Join us as we discover new talent in Tokyo and take it to the world.