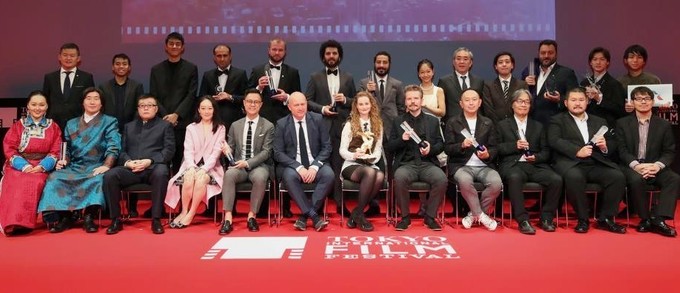 한국어
日本語
■Tokyo Grand Prix / The Governor of Tokyo Award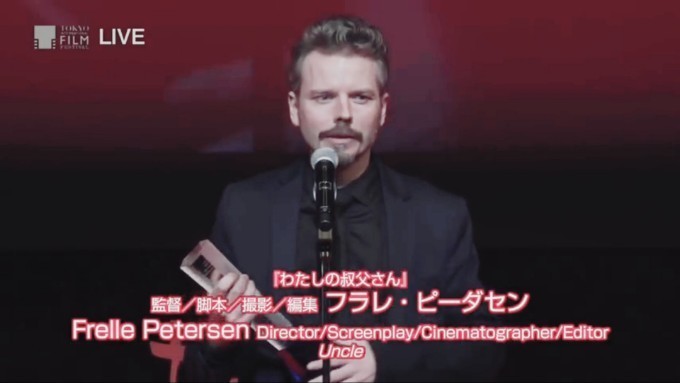 "Uncle" (Director:Frelle Petersen)
The Grand Prix went to the Danish film Uncle. Director Frelle Petersen spoke about his struggles making the film: "We felt we had already won when we found out were selected to compete in the Tokyo International Film Festival," he said. "We were hung over the next day, because it was such a great reason for celebrating."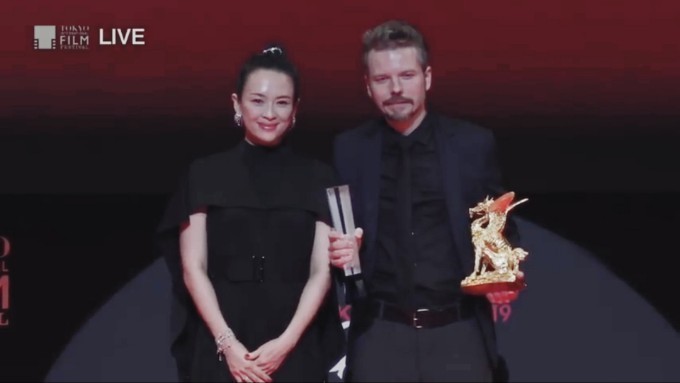 ㅇ
Jury President Zhang Ziyi closed the ceremony with words of appreciation for the superlative hospitality the jury had received.
■American Airlines Award Inter College Short Film Competition Grand-Prix "Down Zone"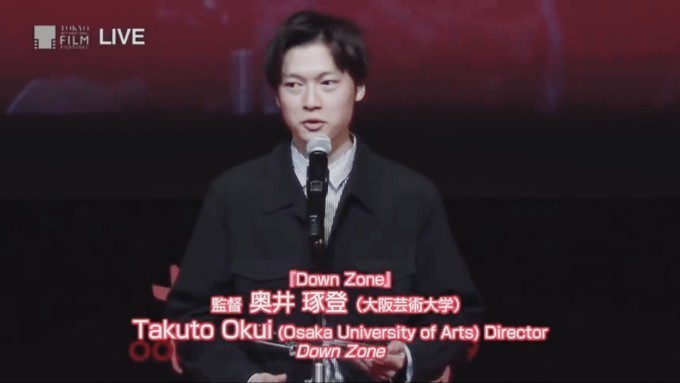 Director: Takuto Okui from Osaka University of Arts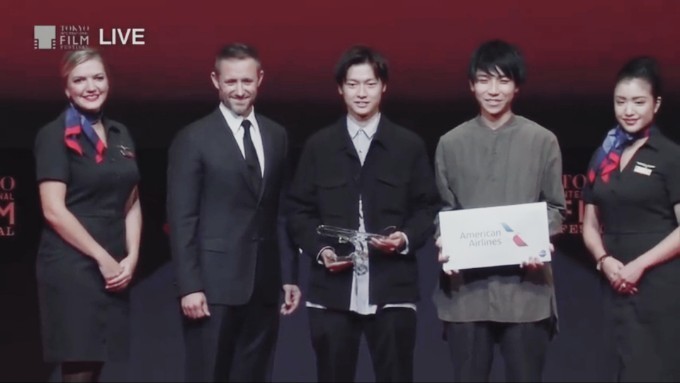 ㅇ
■Tokyo Gemstone Award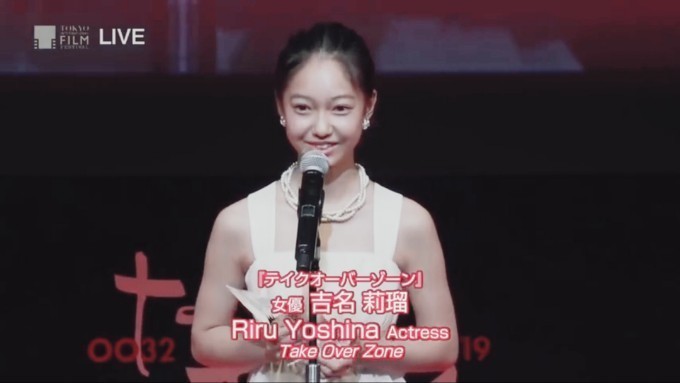 Josefine Frida ("Disco")
The Tokyo Gemstone Awards are given to promising young actors who have appeared in a film in the festival. Takeo Hisamatsu, the festival director, presented the awards, which went to Riru Yoshina for Take Over Zone, Sairi Ito for Life: Untitled, Yui Sakuma for I Was a Secret Bitch and the Norwegian actress, Josefine Frida, who appeared in the Competition feature Disco.
ㅇ
■Japanese Cinema Splash
◎Best Director Award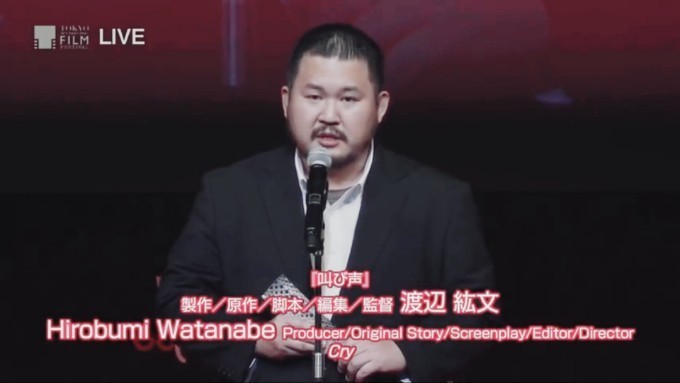 Hirobumi Watanabe ("Cry")
Japanese Cinema Splash Best Director Award had gone to TIFF favorite Hirobumi Watanabe, whose autobiographical "man and pig" story. Watanabe commented, "We are such a small production company, and we self-fund our tiny films.
We don't make commercial films, and it's wonderful to have film festivals select films like this. If we hadn't been found by TIFF, we wouldn't have found our audience and I'm so grateful. I know there are a lot of young filmmakers putting their hearts and souls into their films, and I hope there will be opportunities for them to be found, as well."
Watanabe has participated in TIFF five times before and won the Japanese Cinema Splash Best Film Award for his earlier film Pool Side Man, was quite overcome with emotion. He mentioned that his film company is essentially a family business in Tochigi Prefecture, and especially thanked his grandmother, who appeared in the film and passed away in August at the age of 102. "I won this award because of her," he said, his voice breaking.
◎Best Film Award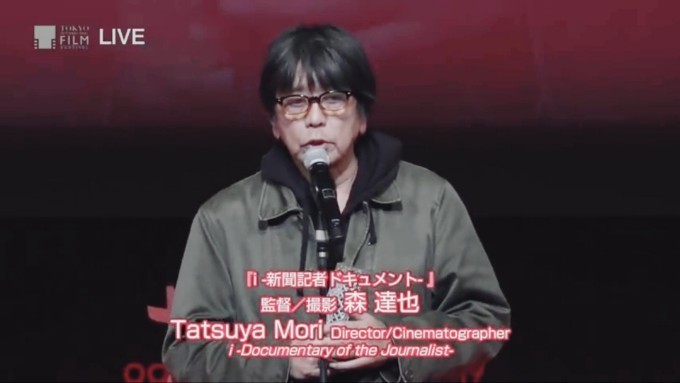 "i -Documentary of the Journalist-" (Director:Tatsuya Mori)
The Japanese Cinema Splash Best Film Award had gone to the hard-hitting i: Documentary of the Journalist, directed by veteran documentarian Tatsuya Mori, who told the Closing Ceremony audience that he was grateful for the jury's decision to award the film, despite its controversial political content.
Mori talked about how the "air we breathe today in Japan is filled with repression." Producer Mitsunobu Kawamura, explained how the movie was a companion piece to a fictional drama, The Journalist, based on the same reporter and released to great box office acclaim, earlier this year.
Kawamura, who also produced a fiction film earlier this year that was inspired by Mochizuki, The Journalist, explained, "It's a fact that not many politically themed films have been made in Japan over the past 20 years, and that was the impetus for us in making this documentary. I produced the fiction film and Mr. Mori was making the documentary at the same time. We were compelled to make this film because the political scene isn't being well covered in Japan."
■Asian Future
◎Best Film Award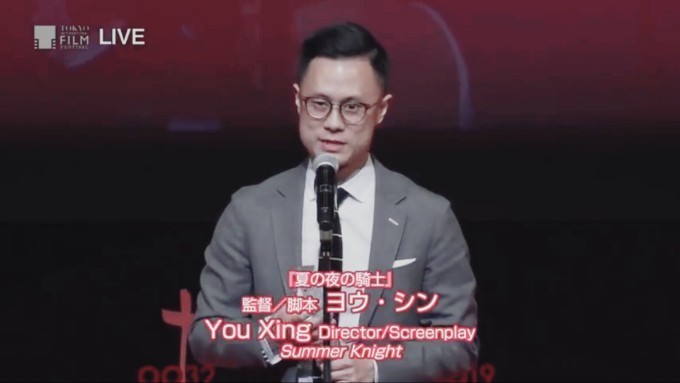 "Summer Knight" (Director:You Xing[尤行] )
The Asian Future Award, selected by a three-member jury, was given for films that demonstrated "passion and universality," according to jury member Elena Pollacchi, as well as those that would connect with audiences.
The Chinese film, Summer Knight, received the Asian Future Best Film Award. Summer Knight director You Xing mentioned that filmmakers are by nature "insecure creatures," and that the award he received at TIFF gave him greater encouragement to strive even more.
ㅇ
◎The Spirit of Asia Award by the Japan Foundation Asia Center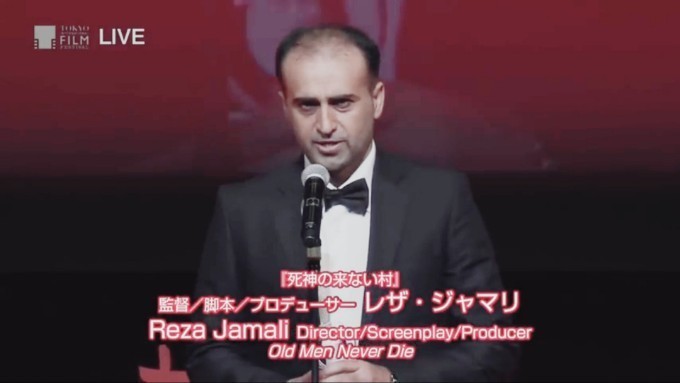 Reza Jamali ("Old Men Never Die")
Iranian film Old Men Never Die, by Reza Jamali, was given The Spirit of Asia Award. Jamali expressed his feeling that it was a great honor to receive this prize at TIFF for his debut film, and especially thanked his producer and his wife who spent very hard time together.
ㅇ
■Competition Audience Award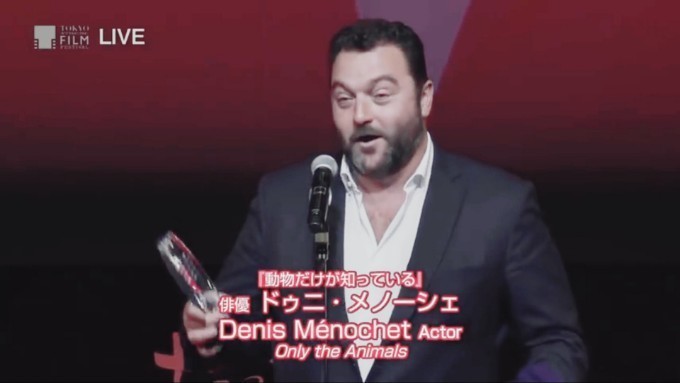 "Only the Animals" (Director:Dominik Moll)
The coveted Audience Award, selected by TIFF audiences, went to the French film Only the Animals. Director Dominik Moll had already left Japan, so it was up to the lead actor, Denis Ménochet, to accept the award. "I've never seen an audience so devoted to film that they would wait two hours to talk with filmmakers about a movie," he said. "I think that the value of film was actually born here in Japan."
◎Best Screenplay Award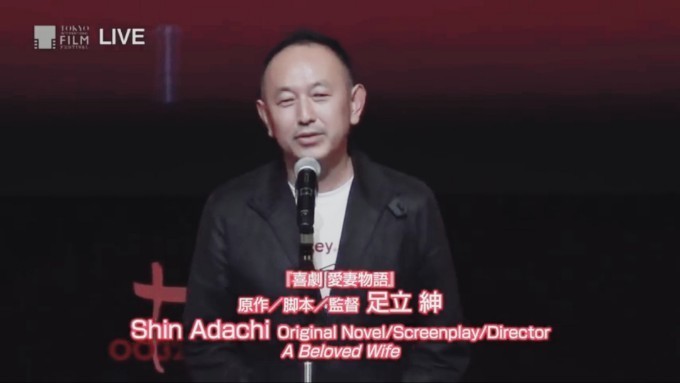 "A Beloved Wife" (Director/Writer: Shin Adachi)
The Best Screenplay Award went to Shin Adachi for his autobiographical film A Beloved Wife. "This is a rare instance of a comedy being selected for a Competition," he noted in his thanks.
◎Award for Best Artistic Contribution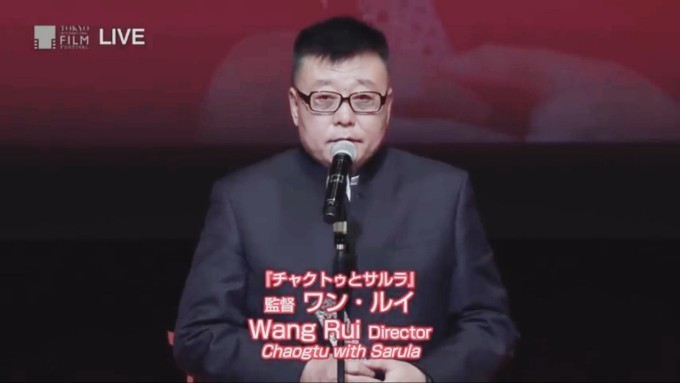 "Chaogtu with Sarula" (Director:Wang Rui[王瑞])
The Award for Best Artistic Contribution went to Wang Rui's Chinese feature, Chaogtu with Sarula.
◎Award for Best Actor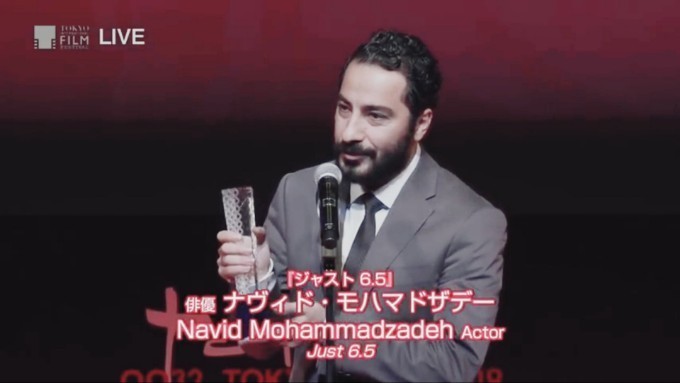 Navid Mohammadzadeh ("Just 6.5")
Jury member Michael Noer presented the Best Actor Award to Navid Mohammadzadeh in what Noer described as a performance that showed the actor in "full control of losing control," as a drug lord in the Iranian thriller Just 6.5. Nadia Tereszkiewicz, who appeared in Dominik Moll's Only the Animals, sent a video message thanking the festival for her Best Actress Award.
◎Award for Best Actress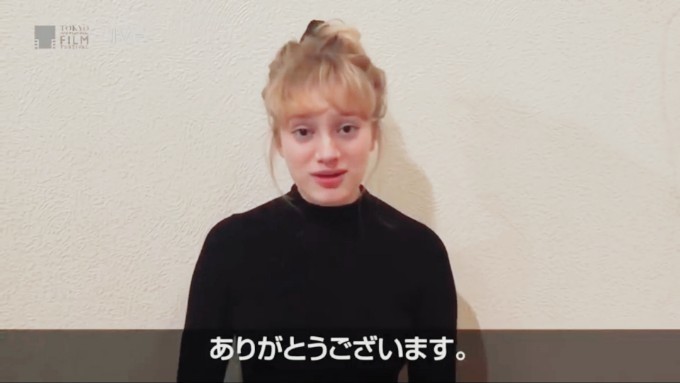 Nadia Tereszkiewicz ("Only the Animals")
ㅇ
◎Award for Best Director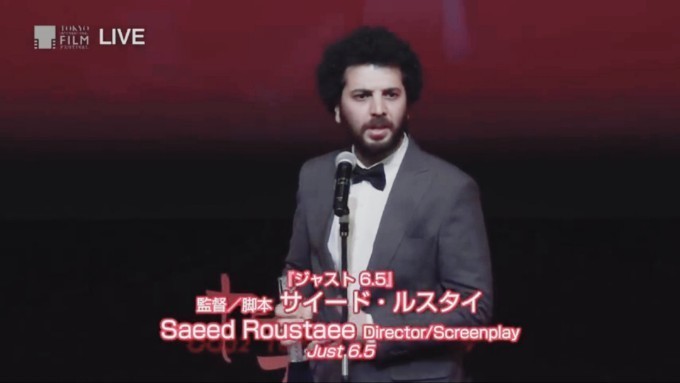 Saeed Roustaee ("Just 6.5")
ㅇ
The Best Director Award went to Saeed Roustaeefor Just 6.5. The Iranian helmer acknowledged what an honor it was to receive an award from the country that produced Akira Kurosawa.
◎Special Jury Prize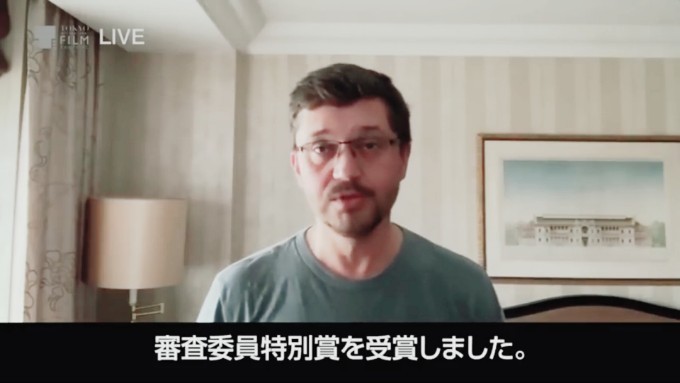 "Atlantis" (Director:Valentyn Vasyanovych)
The Special Jury Prize went to the Ukrainian film, Atlantis. Director Valentyn Vasyanovych sent a message saying how honored he was to receive an award from a country "that has experienced war and understands the pain." The film's star, Andriy Rymaruk, accepted the award on behalf of the director.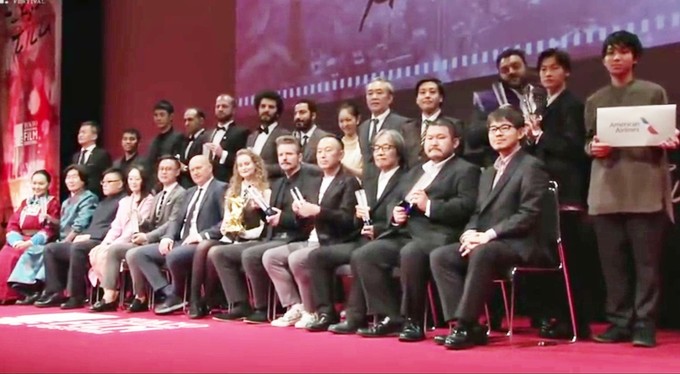 ㅇ