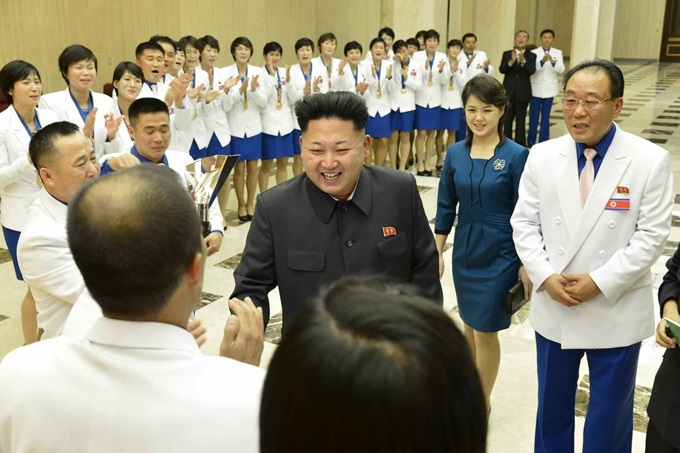 한국어 日本語
Kim Jong Un, first chairman of the National Defence Commission of the DPRK, met together with Ri Sol Ju players who bagged gold medals at the 17th Asian Games and recent world championships and their coaches on October 19, 2014.

They were women footballers, weightlifters Kim Un Guk, Om Yun Chol, Ri Jong Hwa and Kim Un Ju, boxer Jang Un Hui, wrestler Jong Hak Jin, shooter Kim Ji Song, heavy gymnastics player Kim Un Hyang and table tennis player Kim Hyok Bong, gold medalists at the 17th Asian Games, Hong Un Jong who grabbed gold medals at the 17th Asian Games and the 45th Artistic Gymnastics World Championships, Yang Kyong Il, gold medalist at the 2014 World Wrestling Championships, Ri Se Gwang, gold medalist at the 45th Artistic Gymnastics World Championships, chief coach Kim Kwang Min and other coaches.

Kim Jong Un shook hands with the players and coaches one by one, congratulated them on their successes and had a warm talk with them.

He said the spectacular successes achieved recently were the great victories they won by waging struggles to protect the high dignity of the Korean people and the persevering fighting spirit they displayed at each match represented the stamina of the fighting service personnel and people of the country.

He hosted a banquet in honor of the players and coaches on the same day.

Also present there were Hwang Pyong So, Choe Ryong Hae, O Il Jong, Han Kwang Sang, Pak Myong Chol, Kim Yong Hun, O Kum Chol, Ri Jong Mu and other senior officials of the party, state and army.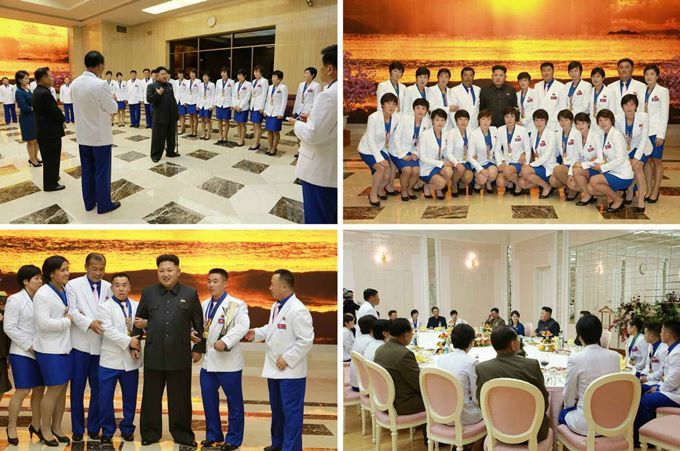 【North Korea】KORAIL CEO to Visit North Korea
【Korea】South Korea Committee to Prepare for Reunification with North
【Korea】Five New Zealand motorcyclists crossed the DMZ, South Korea-North Korea border
【North Korea】Kim Jong-un, 'No more security threats'
【North Korea】N. Korea Accepts Seoul's Offer for Talks on Family Reunions
【North Korea】Smart phone "Arirang"made in North Korea
【North Korea】Another high-level attempt is needed by the United States to end the cycles of sanctions on North Korea and nuclear threats.
【North Korea】South Korea sent First Humanitarian Aid to North Korea Under New Administration
【North Korea】A Sign of Change in North Korea
【North Korea】North Korean Supreme Leader Kim Jong Un and his wife, Ri Sol-Ju, are walking arm-in-arm. 北朝鮮の金正恩国防委員長が、ファストレーディ・李雪珠と腕組みをして登場した。