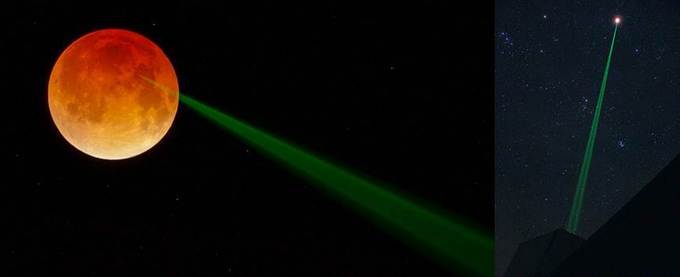 Korean
Japanese
Spanish
German
Arabic
Indonesian
Czech
Dutch
Russian
Slovenian
Catalan
Galician
Chinese
Turkish
German
This is not a scene from a sci-fi special effects movie. The green beam of light and red lunar disk are real enough, captured by NASA in the early morning hours of April 15. Of course, the reddened lunar disk is easy to explain as the image was taken during the total lunar eclipse.

Immersed in shadow, the eclipsed Moon reflects the dimmed reddened light of all the sunsets and sunrises filtering around the edges of planet Earth, seen in silhouette from a lunar perspective.

But the green beam of light really is a laser. Shot from the 3.5-meter telescope at Apache Point Observatory in southern New Mexico, the beam's path is revealed as Earth's atmosphere scatters some of the intense laser light.

The laser's target is the Apollo 15 retroreflector, left on the Moon by the astronauts in 1971.

By determining the light travel time delay of the returning laser pulse, the experimental team from UC San Diego is able to measure the Earth-Moon distance to millimeter precision and provide a test of General Relativity, Einstein's theory of gravity.

Conducting the lunar laser ranging experiment during a total eclipse uses the Earth like a cosmic light switch. With direct sunlight blocked, the reflector's performance is improved over performance when illuminated by sunlight during a normal Full Moon, an effect known as the real Full Moon Curse.
【Nature】Red Moon, Green Beam
【Natural World】Honey badgers - Truly Astonishing! They Were This Smart!
【Nature】PEOPLE ARE AWESOME 人間って素晴らしい! 인간은 위대하다!
【Nature】Miracles of nature
【Nature】Snake vs crocodile: A dramatic showdown
【Nature】Dolphins, gray whales, humpback whale イルカ, コククジラ, ザトウクジラ 돌고래, 귀신 고래, 혹등 고래
【Nature】The Plum Blossom 紅梅 홍매화 梅花
【Nature】How Wolves Change Rivers
【Nature】How Fox Hunts Mice In Deep Snow [ incredible way ]
【Nature】Rare humpback whale "Migaloo" spotted off Australian shores
【Nature】20 Awe-Inspiring Places
【Nature】2013 Perseid Meteor Shower (Aug. 11) 2013ペルセウス座流星群(8.12-13) 페르세우스 유성우 별똥별 우주쇼
【Nature】Most "super" supermoon of 2013 on June 22-23
【Nature】Fog In Lark Harbour Newfoundland, Canada  カナダ・ニューファンドランドの霧  뉴펀들랜드 안개
【Nature】Lake Hillier - Australia オーストラリア・ルシェルシュ群島にあるヒリアー湖
【Nature】Terrapin hitching a ride on alligator's back
【Nature】악어 등에 올라탄 거북이
【Nature】The Drina River(Serbia) セルビア・ドリナ川 세르비아 드리나강
【Nature】Make the Earth cool & keep a Cool Head!!! 地球も頭も冷やそう!!! 지구도 머리도 식히자!!!
【Nature】COOL OCEAN!!! 시원한 바다!!! 涼しい海!!!
【Nature】Most "super" supermoon of 2013 on June 22-23
【Nature】Fly Like A Butterfly 蝶のように空を飛ぼう 나비처럼 하늘을 날아라
【Nature】Flower which blooms once in 100 years 100年ぶりに咲く花 100년 만에 피는 꽃