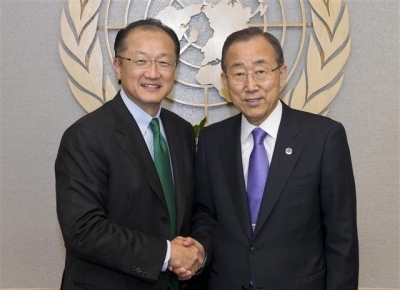 World Bank President Jim Yong Kim(left) UN Secretary General Ban Ki-moon(right)

Korean Japanese
UN Secretary General Ban Ki-moon and his Deputy Jan Eliasson will travel to Washington, D.C. to participate in a series of events taking place in line with the spring meetings of the World Bank and the International Monetary Fund (IMF), it was announced on Monday, April 7th, 2014.

On Thursday, April 10th, Ban will join World Bank President Jim Yong Kim in events on anti-poverty measures and education. The first of those is called "End Poverty Call to Action," and the second one, which includes Special Envoy for Global Education, Gordon Brown, is called "Learning for All".

On Friday, April 11th, Ban and President Kim will participate in a number of events, including on moving towards universal health coverage by 2030, on climate change, on providing sanitation and water for all, and on inequality and shared prosperity. They also expect to meet with the heads of the multilateral development banks.
Ban will return to New York late Friday.
【Africa】Chinese Premier Li Keqiang takes wife on state visit to Africa for first time
【World Bank】"Climate change will lead to battles for food", says head of World Bank
【IMF】JAPAN IMF WORLD BANK ANNUAL MEETINGS
【IMF】IMF 2012 TOKYO ANNUAL REPORT (PART Ⅱ)
【London Summit on nutrition】Ban Ki-Moon - video message to the London Summit on nutrition
【People】2013 World Food Prize Laureate (Robert T. Fraley, Marc Van Montagu, and Mary-Dell Chilton)
【Africa Day】Africa Day in New York, June 26, 2013
【Global Conference】Milken Institute Global Conference 2013
【Russia】Putin has no intention to make any military move into Ukraine
【UN】Ban Ki-moon concerned about the Uganda gay law
【Syria】Fact finding mission in Syria to start immediately-Ban Ki-moon
【London Olympic】BRITAIN LONDON 2012 OLYMPIC GAMES ロンドン2012オリンピック 런던 2012 올림픽