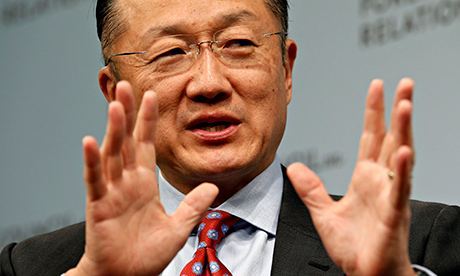 As Jim Yong Kim warned of the risks of climate change,
the UN said food prices had risen to their highest in almost a year.
Korean Japanese
[The Guardian, Thursday 3 April 2014] Jim Yong Kim urges campaigners and scientists to work together to form a coherent plan in the fight against climate change

Battles over water and food will erupt within the next five to 10 years as a result of climate change, the president of the World Bank said as he urged those campaigning against global warming to learn the lessons of how protesters and scientists joined forces in the battle against HIV.

Jim Yong Kim said it was possible to cap the rise in global temperatures at 2C but that so far there had been a failure to replicate the "unbelievable" success of the 15-year-long coalition of activists and scientists to develop a treatment for HIV.

"Is there enough basic science research going into renewable energy? Not even close. Are there ways of taking discoveries made in universities and quickly moving them into industry? No. Are there ways of testing those innovations? Are there people thinking about scaling [up] those innovations?"

Interviewed ahead of next week's biannual World Bank meeting(from 7 to 13 April in Washington, DC.), Kim added: We will convince anyone who asks us that we're really serious about climate change, and that we have a plan that can actually keep us at less than 2C warming.

Kim said there were four areas where the bank could help specifically in the fight against global warming: finding a stable price for carbon; removing fuel subsidies; investing in cleaner cities; and developing climate-smart agriculture. Improved access to clean water and sanitation was vital, he added, as he predicted that tension over resources would result from inaction over global warming. "The water issue is critically related to climate change. So getting serious about access to clean water, access to sanitation is a very important project. Water and sanitation has not had the same kind of champion that global health, and even education, have had."

The World Bank president admitted that his organisation had made mistakes in the past, including a belief that people in poor countries should pay for healthcare. He warned that a failure to tackle inequality risked social unrest. "What we have found is that because of smartphones and access to media, and because everybody knows how everyone else lives, you have no idea where the next huge social movement is going to erupt," he said.

The bank has almost doubled its lending capacity to $28bn (£17bn) a year with the aim of eradicating extreme poverty by 2030 and spreading the benefits of prosperity to the poorest 40% in developing countries. Kim said he was shaking up the bank's structure so that it could lend more effectively and to end a culture in which the organisation's staff did not talk to each other. Instead of being organised solely on a geographic basis, the bank will now pool its expertise across sectors such as health, education and transport so that ideas could be shared across national borders.
【Africa】Chinese Premier Li Keqiang takes wife on state visit to Africa for first time
【UN】UN Secretary General Ban Ki-moon to participate in World Bank, IMF spring meetings
【IMF】JAPAN IMF WORLD BANK ANNUAL MEETINGS
【IMF】IMF 2012 TOKYO ANNUAL REPORT (PART Ⅱ)
【London Summit on nutrition】Ban Ki-Moon - video message to the London Summit on nutrition
【People】2013 World Food Prize Laureate (Robert T. Fraley, Marc Van Montagu, and Mary-Dell Chilton)
【Africa Day】Africa Day in New York, June 26, 2013
【Global Conference】Milken Institute Global Conference 2013