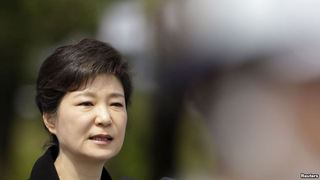 South Korea's President Park Geun-hye
Voice of America, February 25, 2014
SEOUL — South Korea's President Park Geun-hye, has announced a committee to prepare for reunification with North Korea. President Park said unifying with the north would be an economic bonanza, but analysts say the south would face a heavy financial and legal burden.

President Park announced the plans to create a blue print for reuniting South Korea with the North on Tuesday.

In a televised speech marking her first year in office, Park said she would form a preparatory committee directly under the presidential office. She said the committee will expand dialogue and private exchanges with Pyongyang.

She also said the committee will allow all levels of society to participate, including experts in diplomacy, security, economics, sociology and culture, and private organizations. In this way, she said, they will create a national discussion on reunification and make a concrete blueprint of a 'unified Korean peninsula'.

The two Koreas have remained divided since World War II separated them into a Soviet-influenced North and an U.S.-influenced South.

Both Pyongyang and Seoul have reunification as a goal, but neither side specifies how they want it to happen, or under whose leadership.

Most experts agree the wealthy South would have to pay the costs of absorbing the impoverished North.

President Park in a New Year's speech described merging South Korea's advanced technology with North Korea's resources and cheap labor as an economic jackpot.

Park's Tuesday speech focused on a three-year plan for South Korea's economy, which she said will benefit from reunifying with the North.

Long ago, before Korea, she said, Germany reunified by preparing step by step.

But many analysts point out East Germany's income was only a few times smaller than West Germany's when they reunified. By contrast, South Koreans' incomes are 18 times that of North Koreans' and the South's Gross National Income (GNI) is 38 times larger than the North's.

South Korea's Finance Ministry last year estimated reunification could cost up to seven percent of the annual Gross Domestic Product (GDP) for a decade.

That would amount to a total cost of close to $1 trillion; other estimates are even higher.

Daniel Pinkston, Deputy Northeast Asia Director with the International Crisis Group, said South Korea also lacks a legal framework to assimilate North Korea.

"If there were change in North Korea, in whatever kind of scenario you can think about. And, we move into a situation of transitional justice or dealing with mass migrations or displaced people and so on. There are many different scenarios that we can think about. But, in those cases, we don't have a legal framework," said Pinkston.

President Park's comments come as relations are improving between the two Koreas and after a week of rare reunions of families separated since the Korean War.

The two sides this month held the highest level dialogue in seven years, where they agreed to hold the family reunions and to avoid slandering each other.

The deal was seen as a significant concession from Pyongyang, which had been threatening to call off the reunions over joint South Korea-U.S. military drills.

The drills began as scheduled, though South Korea's Defense Ministry Tuesday said a North Korean ship crossed the Northern Limit Line (NLL) separating the two Koreas.

A ministry spokesman said the North Korean ship crossed into South Korean waters three times but turned back after being warned.
【North Korea】KORAIL CEO to Visit North Korea
【Korea】Five New Zealand motorcyclists crossed the DMZ, South Korea-North Korea border
【North Korea】Kim Jong-un, 'No more security threats'
【North Korea】N. Korea Accepts Seoul's Offer for Talks on Family Reunions
【North Korea】Smart phone "Arirang"made in North Korea
【North Korea】Another high-level attempt is needed by the United States to end the cycles of sanctions on North Korea and nuclear threats.
【North Korea】South Korea sent First Humanitarian Aid to North Korea Under New Administration
【North Korea】A Sign of Change in North Korea
【North Korea】North Korean Supreme Leader Kim Jong Un and his wife, Ri Sol-Ju, are walking arm-in-arm. 北朝鮮の金正恩国防委員長が、ファストレーディ・李雪珠と腕組みをして登場した。