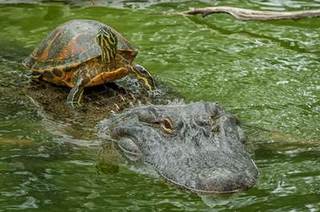 Mirror News 30 Aug Korean
A ride on the back of this fearsome alligator holds no terra-pin for this colourful turtle.

Photographer Shawn Miller, 41, was gobsmacked to see the unusual friendship during a visit to Sea World in San Antonio, Texas.

He said: "I was looking out on the pond and noticed this particular alligator with the red-eared terrapin on his back.

"He was swimming around the pond slowly and the turtle was simply hitching a ride.

"Then as they began to go under this branch, seen in the picture, the terrapin tried stretching to grab the piece of moss hanging down from the branch.

"I had my camera ready and was lucky enough to get this frame."

The father-of-two added: "I think since they live in the same pond year round that they must have become very accustomed to each other and considered it no big deal to share the same space."
【Natural World】Honey badgers - Truly Astonishing! They Were This Smart!
【Nature】Red Moon, Green Beam
【Nature】Miracles of nature
【Nature】Snake vs crocodile: A dramatic showdown
【Nature】Dolphins, gray whales, humpback whale イルカ, コククジラ, ザトウクジラ 돌고래, 귀신 고래, 혹등 고래
【Nature】The Plum Blossom 紅梅 홍매화 梅花
【Nature】How Wolves Change Rivers
【Nature】La strada più pericolosa del mondo
【Nature】How Fox Hunts Mice In Deep Snow [ incredible way ]
【Nature】Rare humpback whale "Migaloo" spotted off Australian shores
【Nature】20 Awe-Inspiring Places
【Nature】Fog In Lark Harbour Newfoundland, Canada  カナダ・ニューファンドランドの霧  뉴펀들랜드 안개
【Nature】Lake Hillier - Australia オーストラリア・ルシェルシュ群島にあるヒリアー湖
【Nature】악어 등에 올라탄 거북이
【Nature】The Drina River(Serbia) セルビア・ドリナ川 세르비아 드리나강
【Nature】Make the Earth cool & keep a Cool Head!!! 地球も頭も冷やそう!!! 지구도 머리도 식히자!!!
【Nature】COOL OCEAN!!! 시원한 바다!!! 涼しい海!!!
【Nature】Most "super" supermoon of 2013 on June 22-23
【Nature】Fly Like A Butterfly 蝶のように空を飛ぼう 나비처럼 하늘을 날아라
【Nature】「Flower which blooms once in 100 years」「100年ぶりに咲く花」「100년 만에 피는 꽃」