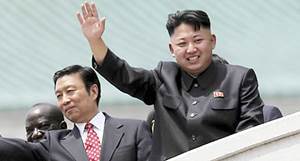 North Korea's leader, Kim Jong-un (right) waves to crowds below him with Chinese envoy Li Yuancho (left)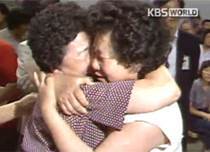 North Korea has accepted South Korea's proposal to hold talks on arranging inter-Korean family reunions.

The North's Committee for the Peaceful Reunification of the Fatherland issued a spokesman's statement on sunday, saying the reunions of separated families shall be held on the occasion of the Chuseok thanksgiving holiday next month.

The committee also suggested video conferences for the separated families to mark the anniversary of the October 4th Inter-Korean declaration.

While accepting Seoul' offer to hold preliminary working-level talks on Friday, the North counter proposed an alternate venue for the meeting at the Mount Geumgang resort instead of the truce village of Panmunjeom.

The North's counterproposal came along with another offer for a separate working-level meeting at the scenic mountain resort Thursday on the issue of resuming South Korea's tour program to the area.

The South's tour to Mount Geumgang in the North has been suspended since the shooting death of a South Korean tourist in 2008.

Seoul's Unification Ministry is yet to respond to Pyongyang's counteroffer to South Korean President Park Geun-hye's initial proposal for family reunions during her Independence Day speech on Thursday.

In the South alone, more than 73-thousand people have put their names on the government's waiting list in a bid to meet their families in the North through inter-Korean reunions. Most of them are older than 70-years old.
【North Korea】KORAIL CEO to Visit North Korea
【Unification of Korea】Educating North Korea - BBC HD Panorama 2014 Documentary
【EAFF EAST ASIAN CUP 2013】Moving scene 남과 북이 얼싸안은 감동의 순간 南と北が抱き合う感動シーン
【EAFF EAST ASIAN CUP 2013】Both Korean teams shed tears when they embraced each other. (July 26)
【Funny】Dance for Unification 統一ダンス 통일춤
【North Korea】Kim Jong-un, 'No more security threats'
【North Korea】Smart phone "Arirang"made in North Korea
【North Korea】Another high-level attempt is needed by the United States to end the cycles of sanctions on North Korea and nuclear threats.
【North Korea】South Korea sent First Humanitarian Aid to North Korea Under New Administration
【North Korea】A Sign of Change in North Korea
【North Korea】North Korean Supreme Leader Kim Jong Un and his wife, Ri Sol-Ju, are walking arm-in-arm. 北朝鮮の金正恩国防委員長が、ファストレーディ・李雪珠と腕組みをして登場した。