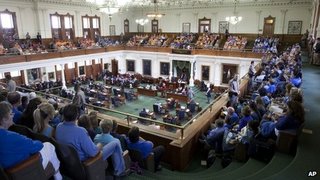 Supporters and opponents of the bill in the Chamber
Korean Japanese Chinese
Texas legislators have passed a contentious bill banning abortions after 20 weeks of pregnancy, reported BBC.

The legislation, which was debated in the state Senate after passing in the House, will also shut down most of the state's abortion clinics.

The bill came near to passage last month but was blocked in the state Senate when Senator Wendy Davis spoke for nearly 11 hours - a delaying speech known as a filibuster - in an attempt to run out the clock on the legislative session.

Republicans had moved quickly to pass the bill after a Democratic senator originally blocked it with a marathon delaying speech.

Governor Rick Perry has vowed to sign the bill into law amid large protests. The Texas legislation mirrors a series of state laws recently passed in Mississippi, Ohio, Oklahoma, Alabama, Kansas, Wisconsin and Arizona.

The US Supreme Court legalized abortion nationwide in 1973, but about a dozen states have enacted laws in recent years limiting access to the procedure. Some of that state legislation is tied up in court battles.
【UN】Ban Ki-moon concerned about the Uganda gay law
【Best Seller】How can religion overcome homophobia?
【Pope Francis】"The Image of God is the Married Couple: the Man and the Woman"
【Miracle】The Miracle Of Human Creation:Image of God、하나님의 형상、神の像、神们像、Gottebenbildlichkeit
【Miracle】NASA Finds Message From God on Mars 火星探査船「Curiosity Rover」神のメッセージ発見 화성탐사선 "Curiosity Rover" 하나님 메시지 발견
【Gay ban】"Homosexuality law is constitutional" the Supreme Court of India
【Websites】60% of Porn Websites Are Hosted in the United States