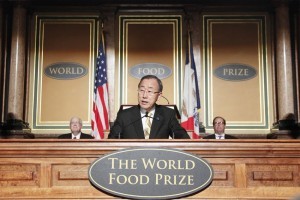 At the 2013 World Food Prize Announcement Ceremony held today at the U.S. State Department, Monsanto's Chief Technology Officer, Robert T. Fraley, Ph.D., was named a 2013 World Food Prize Laureate. Fraley's recognition is for the research he and his teams pioneered in plant biotechnology and its application to advanced breeding and crop improvement techniques in agriculture.

Fraley will share the prestigious prize with Marc Van Montagu, Ph.D., and Mary-Dell Chilton, Ph.D.

"During the last 60 years, the science of molecular genetics, also referred to as New Genetics, has opened up uncommon opportunities for shaping the future of agriculture, industry, medicine and environment protection," said Dr. M.S. Swaminathan, renowned Indian scientist and Chairman of the World Food Prize Laureate Selection Committee. "It is therefore appropriate that the World Food Prize is being awarded this year to some of the pioneers of the New Genetics who have opened up opportunities for achieving a balance between human numbers and the human capacity to produce adequate food."

The World Food Prize was created in 1987 by the late Nobel Peace Prize winner Dr. Norman Borlaug, and is the foremost international award recognizing individuals who have contributed landmark achievements in increasing the quality, quantity or availability of food in the world.

"On behalf of my grandfather, I would like to congratulate Robb Fraley on being named one of this year's World Food Prize Laureates," said Julie Borlaug, granddaughter of the late Dr. Borlaug and associate director for external relations at the Norman Borlaug Institute for International Agriculture. "My grandfather was a strong supporter of the need for innovation to help in the fight against hunger and in the belief that smallholder farmers around the world deserve every opportunity to have access to these critically important technologies. Robb has been a tireless champion of these efforts, dedicating his career to addressing food security through scientific advancements in agriculture."

Born in a small farming community in central Illinois, Fraley earned undergraduate and graduate degrees from the University of Illinois and conducted his post doctoral work at the University of California, San Francisco. He joined Monsanto in 1981 as a senior research associate and in 1983 he and his team announced the creation of the first genetically engineered plants. Since that time, millions of farmers globally have benefitted from this pioneering research in biotechnology and continued focus on the development of advanced breeding technologies.

"I am deeply humbled by this extraordinary honor in receiving the World Food Prize and joining the ranks of so many accomplished Laureates who have come before me," Fraley said. "It's an award I share with the team at Monsanto. I really believe we have just scratched the surface on what is possible in bringing innovation to farmers who deliver food security to consumers around the world. The World Food Prize provides us an important platform to engage in a new global dialogue around enabling farmer access to advanced agriculture tools while ensuring a sustainable food supply for all."

They will be awarded the World Food Prize at a ceremony this fall, which will be in conjunction with The Norman E. Borlaug International Symposium in Des Moines, Iowa, October 16-18.
【Stevie Awards】The 11th Annual International Business Awards
【Bridges Conference】Bridges Seoul 2014 (Mathematics, Music, Art, Architecture, Culture)
【Hero】The 100 greatest heros 'Reckless' 世界100大英雄・英雄馬「レクリス軍曹」 세계 100대 영웅 '하사 레클리스'
【People】"She was a hero." A Story Behind Asiana Airline Flight 214 Crash
【People】Egyptian Jesus 'Anwar Sadat'
【People】CNN Heros - Anuradha Koirala