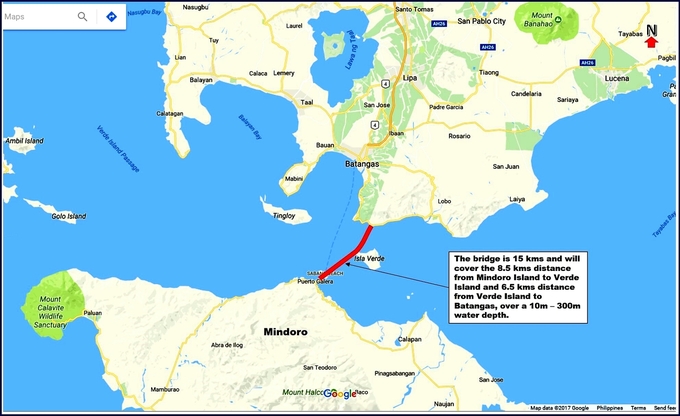 The Batangas-Mindoro Super Bridge Project
한국어 日本語
The Department of Public Works and Highway has presented a plan to construct a world-class super bridge that will link Mindoro Island to the Province of Batangas.

This gigantic bridge project has been proposed as early as 2011. It is a proposed 14 km pontoon bridge which is meant to facilitate easier transport of agricultural goods from Mindoro island to Metro Manila.

San Miguel Corporation first expressed interest to construct the project in 2013. In early 2015, a group of Malaysian investors led by Mohammed Jamil expressed interest in the bridge. A floating bridge or pontoon bridge design was adopted to avoid damaging the seabed of the Isla Verde Passage which is considered a "center of biodiversity".

The bridge compose of two components. The first will span 6.4 kilometers from Barangay Ilijan in Batangas City to Verde Island. The second component spanning 4.4 kilometers will continue from Verde Island to Barangay Sinandigan in Puerto Galera, Oriental Mindoro.

The Batangas-Mindoro bridge which will have pedestrian and bicycle lanes is touted to become the first floating bridge in South East Asia. Furthermore, it will be designed to withstand typhoons with winds up to 350km/h(220mph). The cost of the construction of the bridge is ₱18 billion and will take five years to build.
【Technology】WORLD'S FIRST UNDERWATER TUNNEL IN NORWAY
【Linear motor car】World's fastest 'Bullet Train"(500Km/h)resumes testing in Japan
【Tunnel】Gotthard Base Tunnel: World's Longest Tunnel