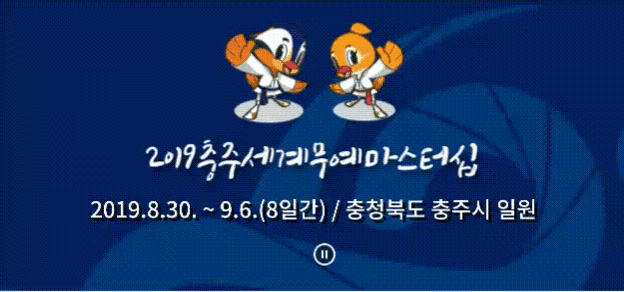 한국어
We invite you to 2019 Chungju World Martial Arts Masterships

ㅡChairperson of 2019 Chungju World Martial Arts Masterships Organizing Committee Si-Jong Leeㅡ


2019 Chungju World Martial Arts Masterships is the "international martial arts mega event" with the Korean government approval as an international sports event.
This event under the slogan "Beyond the Times, Bridge the World" will bring the martial arts, which has remained in the tradition, to the world. Moreover, the event will become the world's comprehensive martial arts competition with peace and harmony.

2019 Chungju World Martial Arts Masterships will make the standard model of World Martial Arts Masterships. The World Martial Arts Masterships Committee (WMC) aspires the next events to be hosted overseas to continue developing the World Martial Arts Masterships into the best international martial arts mega event. We invite you to the world of traditional martial arts with passion and enthusiasm. We hope to see you in Chungju City, Chungcheongbuk-do Province, Republic of Korea, in August 2019.
〜Competition Overview〜
●Period/Place︰30 August (Fri)- 6 September(Fri) 2019 (for 8 days) / Chungju City, Chungcheongbuk-do Province
●Participants︰4,000 people from 100 countries
●Patronage︰WMC / Chungcheongbuk-do Province / Chungju city
●Sponsor︰General Association of International Sports Federations, Ministry of Culture, Sports and Tourism,
Mainistry of Foreign Affairs, Republic of korea, Korea Sports Promotion Foundation, Korean Sports & Olympics Committee, KOREA TOURISM ORGANIZATION, Korean National Commission for UNESCO
〜Competition Plan (Plan)〜

■Ju-Jitsu︰8/30 - 9/2, Konkuk University

Ju-Jitsu includes hitting skills such as punching, kicking and ground techniques such as throwing, grappling holding, and choking. Distinctively, Ju-Jitsu athletes compete with an opponent player by using skills and techniques without excessive force. Ju-Jitsu is a martial art handed down from Japanese Ju-jutsu. In 1977, European Ju-Jitsu Federation(EJJF) was established to spread the sport Ju-Jitsu, it chaged its name to Ju-Jitsu International Federation(JJIF) in 1998.
Jiu-Jitsu Association of Korea(JJAK)
■Wushu︰8/30 - 9/1, Hoam 2nd Gymnasium

Wushu is one of China's traditional traditional martial arts, and it has technological content with manual technique and bottle technique. Wushu is a sport of contemporary meaning, and it refers to "game Wushu." The events are divided into two categories: Tuo and Matsu. Touro is a Chinese festival called Long Feng (martial art), southern folk (martial art) It refers to the part of the Taijiquan (the Taijiquan) and the stamina of the weaponry of the swordsmanship, the swordsmanship, the swordsmanship, and the gunship and the lances. Arsenal is an event in which players compete against each other in free-riding Dalian.
Korea Wushu Association
■Tong-il Moo-do︰8/30 - 31, Korea Transportation University

It is a martial arts that was developed 40 years ago, centered on the Unification Church philosophy and ideology (unification principle) for unification of South and North, unification of martial arts, unification of body and mind, The educational philosophy is "Aceh, lover, patriotism." Tong-il Moo-do is based on all the actions and skills of various martial arts. Also It unifies the harmony unity through the linear movement. It is the martial art of world peace that rules itself.
■Taekkyeon︰8/30, National Sports Center for the Disabled

Taekkyeon is a Korean traditional martial art which is based on various techniques such as moving arms playfully and proudly in a circular motion, swaying easily with body and tripping by foot, especially by peculiar steps which are called Pumbalgi in Korea.
The Korea Taekkyeon Association
■Horseback Archery︰8/30 - 9. 1, Yeongnangho Lake in Sokcho

Archery is one of the oldest forms of martial arts known to man, as the horse has been recognized as a loyal companion. Horseback Archery is played by shooting an arrow into the target, while riding a horse. Historically, horseback archers were highly respected, as horseback archery requires archer to reach trinity of the horse, archer, and his physical prowess. Today, Horseback Archery is widely known, being a traditional sport that is enjoyed all around the world.
World Horseback Archery Federation
■Kabaddi︰8/31 - 9/2, National Sports Center for the Disabled

The Kabaddi game is the oldest Indian culture. The origin of the game is not known exactly, but seems to be over 4,000 years old. Kabaddi aims to develop the skills of self defense and public survival. Since then, it has been played like a folk play in the area around India, but it has become modernized and became one of the most popular events in southern Asian countries.
Korea Kabaddi Association(KKA)
■Martial Arts Show︰8/31, 9/3 - 4, Chungju World Martial Arts Park

Martial Arts Show is a special event that demonstrates and performs variety of creative martial arts techniques. It is divided into single, double and group competitions. Its purpose is to contribute to the technical development of martial arts through excellent and creative abilities of each martial art in the world. Within a given time, accuracy of martial arts movement, designation technique operation, proficiency, expressiveness (harmony of dynamic expression with music), creative direction and artistry are evaluated.
Korea Martial Arts Federation
Taekwondo︰9/1 - 3, Chungju Gymnasium

Taekwondo is the traditional and globalized form of martial arts of Korea. It is regarded as a meaningful art form that emphasizes correct humanity through mental armament together with physical training which used the form of attacking and defense utilizing hand and foot.
Taekwondo is a bare-hands martial arts posing technical mechanism that attack opponents with bare hand and foot and showing remarkable differences from other martial arts on the various powerful foot techniques. Various foot techniques made itself as unique martial arts different from others. Taekwondo became an international sports event through various international competitions, and is a one of the official event at the Olympics.
Korea Taekwondo Association(KTA)
■Aikido︰9/1 - 2, Konkuk University

Aikido is a Japanese martial art performed by blending with the motion of the attacker and redirecting the force of the attack rather than opposing it. Aikido's goal is to harmonize with partners anytime and anywhere through vigorous self-discipline. It is made to be enjoyed regardless of gender, age, or other conditions.
Korea Aikido Federation (KAF)
■Yongmudo︰9/1 - 2, Chungju World Martial Arts Park

Yongmudo is one of Korean Integrated Martial – Arts System; KIMAS which is mixture of Korea traditional Martial Arts. It is to make with fusion and harmony of Korean ideology and foundation philosophy of Yong-In University.
Korea Yongmood Association(KYA)
■Muaythai ︰9/2 - 4, Hoam Gymnasium

The traditional form of martial arts in Thailand is called Muay Thai or Thai boxing. It has two contact spots like boxing and four contact spots in the hands and feet like kickboxing. The 8 angas technique is used to make contact by punching, kicking, elbowing, and kneeing. Heading is prohibited for the
Thai belief that the soul can escape through such contact. Boxing trunks are worn with a Mongkhon on the head and a Peurakchiat strapped on the arm. Today, gloves are worn as opposed to the past when glass powder was coated on bandaged fingers with hemp.
Korea M uaythai Association
■Wrestling︰9/2 - 3, Hoam 2nd Gymnasium

Belt Wrestling is one of the oldest traditional Wrestling sports, and the aim for the participants is to try to throw each other over by wrestling with a belt hold. Belt Wrestling dates back to the ancient civilisations in Mesopotamia. The sport is referred to in the famous "Epic of Gilgamesh" poem, written around 2000 BC about a Sumerian King who lived sometime between 2800 to 2600 BC.
United World Wrestling(UWW)
■Kurash︰9/3 - 4, Korea Transportation University
Kurash is the national wrestling of the Uzbek nation. In translation from the Uzbek "kurash" means "achieve the goal rightly". Two rivals wrestle standing in a rack; the wrestling takes place on mats similar to those in judo. The using of any shock, pain, stifling techniques, as well as grabbing below the belt prohibit strictly. All this makes kurash simple, understandable, spectacular, dynamic and safe kinds of sport.
Korea Kurash Federation
■Pencak Silat︰9/3 - 4, National Sports Center for the Disabled

Pencak Silat is a traditional Southeast Asian martial art that is widely practiced in Indonesia, Malaysia, Singapore, Brunei and Philippines. With the meaning of "artistically defending," Pencak Silat is a comprehensive martial art that combines spirit, training, self-defense, culture and sports which can be applied in actual fighting. Pencak Silat has a movement of Japanese Karate, Power of Thailand Muay thai and China Kung fu which unites as martial arts and gains fame all around the world. Now bodyguard and Special Forces are using it.
Korea Pencak Silat Federation
■Judo︰9/4 - 6, Konguk University

In the 15th year of the Meiji era, "Kano Jigoro" originated Judo at Youngchang temple(えいしょうじ, 永昌寺) located in Inagacho, the northern part of Shimodagu. It was originally started with nine pupils and was named "Kodokan". (The Origin of Modern Judo) After that, Judo became so popular and was developed worldwide that it was adopted as an official event in the 18th Tokyo Summer Olympics in 1964.
Judo includes skills to suppress an opponent by using the principles of Kuzushi(崩し, the initial balance break), Tsukuri (作り, the act of turning in and fitting into the throw), Kake (掛け, the execution and completion of the throw). It also includes the techniques like throwing, gripping.
Korea Judo Association(KJA)
■Sambo︰9/4 - 5, Hoam 2nd University

Sambo is an acronym for or SAMozashchitya Bez Oruzhiya, literally meaning "self-defense without weapons" in Russian. The self-defenses that did important roles in forming Sambo martial arts are as follows: wrestling in Dagestan Republic from the Sovie, Chitaoba of the Republic of Georgia, self-defense skills of Armenia, Tajikistan, Uzbekistan, wrestling in Mongolian styles, Savate the French boxing, Brazilian jiu-jitsu and Japanese judo etc.
The Incumbent Russian President Vladimir Putin now has been into Sambo as much as he had gone through life as a Sambo athlete. Also, soldiers, policemen, as well as politicians, businessmen, and many other people from various fields in Russia have also learned Sambo and have reached a considerable level. The International Sambo Federation (FIAS) has been actively supporting the formation of the Sambo Federation in various countries around the world in order to foster Sambo as a world sport. Currently, more than 100 countries are joining.
Korea Sambo Federation
■Martial Art Record Contest︰8/4 - 5, Chungju World Martial Arts Park

Martial Art Record Contest, one of the special events, is to contend the abilities by subdividing martial arts techniques. It is a game to measure who performs a martial arts technique better (more, faster, higher, farther, longer) within regular time and space. Competition methods are high rolling, far rolling, breaking, high kicking, and far kicking. All martial artists have an opportunity to participate in this event which allows them to set game or world records by measuring and evaluating their ability.
Korea Martial Arts Federation
■Savate︰9/5 - 6, Hoam Gymnasium

Savate was created as a method of fighting to combat burglars in the early nineteenth century, and is one of the fierce martial arts that involves a movement similar to boxing, but with kicking on the feet and knees. The meaning of the term "savate" originated from the "old shoes" in French. Savate Kickboxing differs from other types of kickboxing in that it requires compulsory footwear and in that the athlete uses the shoe efficiently and operates the kick techniques against the opponent.
Korea Savate Association
■Korean Hapkido︰9/5 - 6, Korea Transportation University

Korean Hapkido is a form of martial arts with various defense techniques such as cracking, throwing, hitting, stabbing, and kicking. The basic techniques of Korean Hapkido are consist of breathing, kicking, fist, and general technique(sulgi). The general technique(sulgi) is a key technique in Hapkido, and it is aimed at self-defense by using force in the body and using the opponent's muscle, bone, force, acupuncture point. Sulgi is consist of hitting, kicking, breaking(like Kansetsu-waza in judo), throwing.
The Federation of Hapkido(HKD)
■Ssireum︰9/5 - 6, National Sports Center for the Disabled

It is one of the traditional crafts of our country from ancient times. It is a folk game in which two people decide to compete by grabbing the band of a piece of skirt or belt or pants and knocking down opponents first
Korea Ssireum Association