Hilton Seoul Hotel / Dec. 7th, 2018
ㅇ
한국어
"The crisis that we are facing is a crisis concerning the way we regard and respect the world."
What does preserving the planet have to do with saving the soul? There are no two ways of looking at either the world or God. There can be no distinction between concern for human welfare and concern for ecological preservation.
St. Anthony of Egypt, the "father of monasticism," described nature as a book that teaches us about the beauty of God's creation: "My book [he said] is the nature of creation; there, I read the works of God." He also said, "Creation declares in a loud voice its maker and master." This is how the Orthodox Church perceives the natural environment.
Nature's beauty leads us to a broader view of creation. it is like the wide-angle lens of a camera. It prevents us from using our planet's resources in a narrow-minded or selfish manner.
In calling for a "eucharistic spirit," the Orthodox Church reminds us that the world is not our private property, but a precious treasure or divine gift. And the proper response to God's gift is gratitude.
The second term that defines our response to God's generosity is "ascesis," which derives from the Greek word askeo and describes the way we treat creation.
The world's resources are offered to us by God not only to satisfy our needs, but rather to be shared with others. They are not ours to abuse or waste simply because we have the desire to consume them or the ability to pay for them.
The ascetic dimension implies a vocation to respect and protect creation through self-restraint and self-control, as well as through frugality and simplicity. in this way, everything is restored to its original vision and purpose, as God intended it from the moment of creation.
The saints of the early Eastern Church knew that a person with a pure heart was able to sense the connection with the rest of creation, especially, the animal world. Think about St. Francis of Assisi talking to the sun and the moon, or St. Seraphim of Sarov feeding the bear in the forest.
This connection with the rest of creation is not merely emotional; it is profoundly spiritual.
What is a merciful heart? It is a heart, which is burning with love for the whole of creation: for human beings, for birds, for beasts, for demons — for all of God's creatures.
In his Letter to the Romans, St. Paul emphasizes the consequences of sin, stating that "from the beginning, the entire creation has been groaning in Pain" (Rom- 8-22), "eagerly awaiting its liberation by the children of God." (Rom. 8.19)
Indeed, every act of ecological pollution or destruction is an offence against God. Unfortunately, however, we have behaved as if we own creation. Creation care is not primarily an ethical or moral issue. It demands a radical change of our worldview and lifestyle. We are called to repent for the way we regard and treat God's creation.
Therefore, the traditional concept of sin must be broadened to include environmental abuse! This is why, almost twenty years ago, we declared that "to commit a crime against the natural world is a sin."
Human attitudes and actions, toward creation directly reflect human attitudes and behavior toward other people. Scientists estimate that those most hurt by global warming in the future will be those who can least afford it. Thus, pollution is intimately connected to poverty.
This planet is indeed our home; but it is also the home of every human being, of every animal creature, and of every form of life created by God. We must remember that we are not alone in this world; and our generation is not the only one that needs to survive on this planet.
The crisis that we are facing is a crisis concerning the way we regard and respect the world. So let us acquire a "eucharistic spirit" and an "ascetic ethos" in our approach to creation care. Let us regard ourselves as responsible for every living creature of God.
The beautiful forests, rocky seacoasts, and wonderful mountains of your country belong not only to the present generation but also to future generations. This is why the Korean people have a unique reputation for reducing and recycling as well as respecting and protecting the environment.
Humankind is entitled to a better and brighter world - a world free from degradation and violence, a world of generosity and compassion. It is this selfless love for our children that will show us the path that we must follow into the future.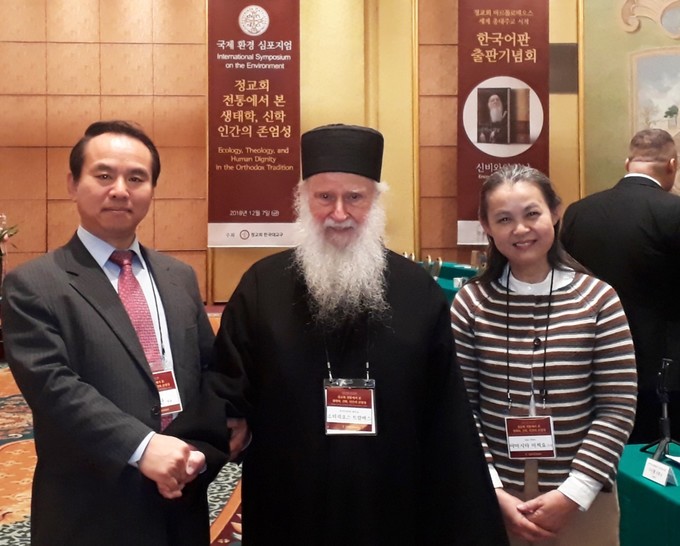 (left to right) Asia News CEO Keum San Kim, Ecumenical Patriarch
ㅇ