한국어 日本語
UGETSU [4K Digitally Restored Version]

A global masterpiece and winner of several awards, including the Silver Lion at 14th Venice. Restored by the Film Foundation (chaired by Martin Scorsese) and Kadokawa under the supervision of cinematographer Masahiro Miyajima.

With the arrival of the war, potter Genjuro hopes for bumper business, while his brother Tobei longs for success as a samurai and, his wife wants modest happiness for the family, but their fate is at the mercy of the war time. Adaptation of Akinari Ueda's "Ugetsu Monogatari" by the best crew and cast. Many scenes in this global masterpiece influenced filmmakers around the world.
Floating Clouds [4K Digitally Restored Version]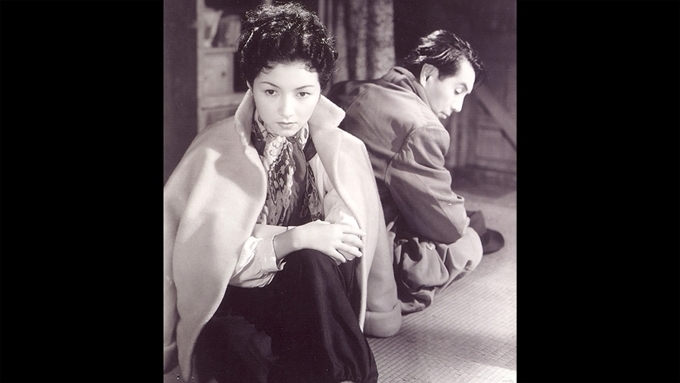 The best masterpiece of the Mikio Naruse director work which drew love and the tragedy of the woman who degraded herself together with a loose man during the postwar confusion period for wartime.

Floating Clouds is a dramatic masterpiece by director Mikio Naruse who is also known for Repast and Two in the Shadow. The tragic love story is set in the turbulent period after the war. Yukiko knows Tomioka is self-indulgent but she can't help herself from being dragged down with him. This is one of leading actress Hideko Takamine's best-known roles.
KING KONG VS. GODZILLA [4K Digitally Restored Version]

The first color film and the biggest hit in the series. America's King Kong and Japan's Godzilla duel in this third film of the series. The film was cut by 24 minutes to make an edited version, but after discovery of the long lost omitted film, the1962 version was restored with the latest digital technologies in 4K for the first time for the series and returned to the screen after 54 years.
VIRUS [4K Digitally Restored Version]

Tremendous production with 2.45 billion yen investment and Antarctic location. Digitally restored after 36 years to mark Kadokawa Pictures' 40th anniversary, under the supervision of cinematographer Daisaku Kimura.

Based on Sakyo Komatsu's SF novel. In 1982, a deadly virus MM-88 is stolen from an East German lab, and the airplane carrying the virus crashes in the Alps, almost wiping out the mankind except for some survivors in Antarctica. One of them, seismologist Yoshizumi, realizes an even bigger danger is imminent - Eastern United States may be hit by a mega quake, and a nuclear missile may be triggered.
The Legend of Eight Samurai [4K Digitally Restored Version]

This is a film adaptation of Toshio Kamata's "Shin Satomi Hakkenden" which is loosely based on "Nansō Satomi Hakkenden". The Satomi family has been destroyed and Princess Shizu, who escaped, is pursued by the evil force, but a group of swordsmen with mysterious crystals come to her aid.
Chûshingura [Digitally Remastered]

Bakin Takizawa's epic serial was made into a historical fantasy film with a bold new interpretation. The film was digitally restored after 33 years to commemorate Kadokawa Pictures' 40th anniversary, with cinematographer Seizo Sengen.

Jitsuroku Chûshingura was the original title of this famous story that featured Japan's first national star, Matsunosuke Onoe who appeared in over 1,000 films. Tomiyasu Ikeda's elegant direction set the tone for many later versions.
【TIFF】29th Tokyo International Film Festival Unveils Full Lineup
【Tokyo International Film Festival 2016】The World of Mamoru HOSODA
【Tokyo International Film Festival 2016】Competition
【Tokyo International Film Festival 2016】Kabukiza Special Night! Kabuki+Cinema returns for the third time!
【Tokyo International Film Festival 2016】Special Screening Section!!
【Tokyo International Film Festival 2016】Submit Your Film to the 29th Tokyo Int'l Film Festival!!
【Tokyo International Film Festival 2015】Award Winning Films and Winners
【Tokyo International Film Festival 2015】ARIGATO Award
【Tokyo International Film Festival 2015】History and current state of Philippine cinema
【Tokyo International Film Festival 2015】The 28th Tokyo International Film Festival Opening Event
【Multicultural One Family Festival 2015】Multicultural Society Forum 'Keiko Kobayashi'
【Multicultural One Family Festival 2015】Theme Song 'Colors of the Human Race'/ Kirari
【国際交流】大道芸ワールドカップin静岡2014
【ASEAN】ASEANフェスティバル2013
【Summit】The Nuclear Security Summit 2014
【日韓交流】 2013日韓平和シンポジウム 2013한일평화심포지움
【ASEAN】23rd ASEAN Summit and Related Summits
【APEC】2013年インドネシアAPEC
【Sports】TOKYO2020 FINAL Presentation FILM
【JATA TABIHAKU】JATA旅博2013
【日韓交流】日韓交流おまつり2013
【日韓交流】한일축제日韓交流おまつり한마당
【Yeosu EXPO】EXPO 2012 YEOSU KOREA TOUR GUIDE
【Yeosu EXPO】EXPO 2012 YEOSU KOREA
【APEC】APEC JAPAN 2010