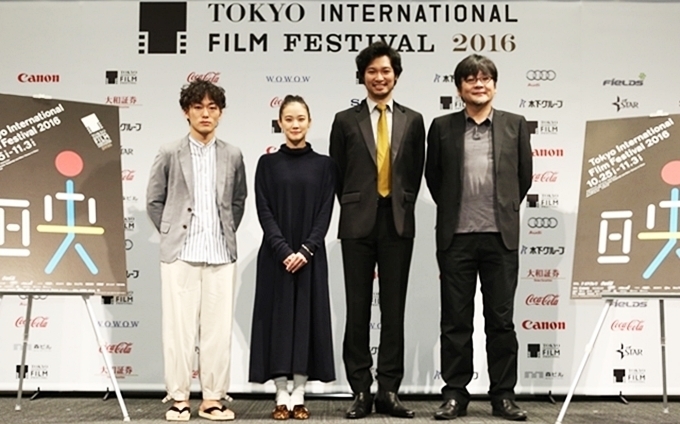 (left to right) Daigo Matsui, Yu AOI, Munetaka AOKI, Mamoru HOSODA
한국어

日本語


The Tokyo International Film Festival (TIFF) held a press conference to announce lineups in the all sections, jury members, and this year's topics and highlights at Toranomon Hills Forum in Tokyo.

Yasushi SHIINA, Director General of TIFF & TIFFCOM, made opening remarks and announced that the festival muse for this year is Haru KUROKI, one of the most accomplished actresses in Japan. TIFF's programing directors then took the stage to introduce the lineup for each section of the 29th edition, as well as to reiterate the prior announcements of the Opening film, Stephen Frears' Florence Foster Jenkins and the Closing film, Yoshitaka MORI's Satoshi: A Move for Tomorrow.

In the Competition section, 16 films were selected from among 1,502 titles from 98 countries and regions. Representing the two Japanese titles in this main competitive section, director Daigo MATSUI and actress Yu AOI from Japanese Girls Never Die, and actor Munetaka AOKI from Snow Woman were welcomed on the stage and made remarks.

Acclaimed director Mamoru HOSODA, who is being honored this year with "The World of Mamoru Hosoda" in the Animation Focus section, greeted the audience after the retrospective lineup was announced. He will appear for stage talks during TIFF with such special guests as director Hirokazu KORE-EDA and filmmaker Daisuke "Dice" TSUTSUMI.

This year's International Competition Jury members were also announced. French director/writer/producer Jean-Jacques BEINEIX will serve as President, working with director Hideyuki HIRAYAMA, actor Valerio MASTANDREA, producer Nicole ROCKLIN, and director Mabel CHEUNG.

During the 10-day celebration, more than 200 films will be screened and there will be unique film-related events every day at the festival venues, including stage appearances, Q&A sessions and symposia featuring celebrated guests from around the world.

The 29th TIFF will take place October 25 to November 3, 2016 at Roppongi Hills, EX Theater Roppongi (Minato City) and other theaters, halls and facilities in Tokyo Metropolitan Area.

Daigo Matsui : It is such a great honor to participate in the TIFF Competition section. Three years ago, I participated in the Japanese Splash section, and ever since then, I was really eager to come back. I especially hoped to be selected this year because my film is a rather disturbing story about suburban Japan, which I want to show in this urban center of Tokyo. The heroine of the film is actually missing, but she is gradually becoming more and more famous because her image is being spread everywhere. I think it has resonance for Japan today.

Yu AOI : This is the first time that I'll be participating at TIFF, and I have to say that the director, Daigo Matsui, was so nervous about whether or not his film would be selected, and that made me nervous, too. He was so eager to be part of TIFF that he declined offers from other festivals. So I'm really relieved that this film was selected for the Competition. I really liked the original novel, which was written by a woman, since it depicts both the strengths and weaknesses of women. I think that many females in the audience will identify with the characters and have a memorable experience. I hope you all enjoy the film.

Munetaka AOKI : This film is based on the well-known fable "Snow Woman" by Lafcadio Hearn (Yakumo Koizumi), and I'm very pleased to be here today to represent it at TIFF. It has a classical feeling, as well as a more modern touch, which was very challenging to make. The director and star, Kiki Sugino, said that she wanted to create a reinterpretation of this story, and I think her power really shines through.

Mamoru HOSODA : I'm a little bit embarrassed, because this is the first time that all my works have been shown in a retrospective. However, I am excited to watch these films together with an audience, and I hope that this experience will be good for my next work. In addition, I'm delighted that the films I created at Toei Animation will be screened in the theater in remastered versions. Animation tends to be thought of as a medium for children, but I have been trying to create something different. Pushing the limits of the form, I want to direct a new style of animated film.