한국어 日本語 中文 français Español русский Deutsche Tiếng Việt
North Korean leader Kim Jong Un has sent a condolence letter to the family of Unification Church founder Sun Myung Moon.

Moon, who founded Pyeonghwa (peace) Motors factory in North Korea, dedicated his life to inter-Korean exchanges. He died in early September 2012, leaving his widow Han Hak-ja the leader of the Unification Church.

On Sunday the North's Korea Central News Agency (KCNA) revealed that the North Korean leader had contacted Han as the three-year anniversary of Moon's death approaches.

"I sincerely express condolences to president Han Hak-ja and the bereaved family members on the anniversary of former president Moon Sun Myung's passing," the letter reads. "Moon has devoted himself to reconciliation of the nation and integration, unification and world peace. I hope president Han and the bereaved family members respect and follow Moon's intention."

The Family Federation for World Peace and Unification said the letter was sent via Kim Yang Gon, secretary of Workers' Party of Korea and the director of the United Front Department, with condolence flowers.

Kim Jong Un has sent correspondence and flowers to Moon's family before, including at his funeral on September 2012.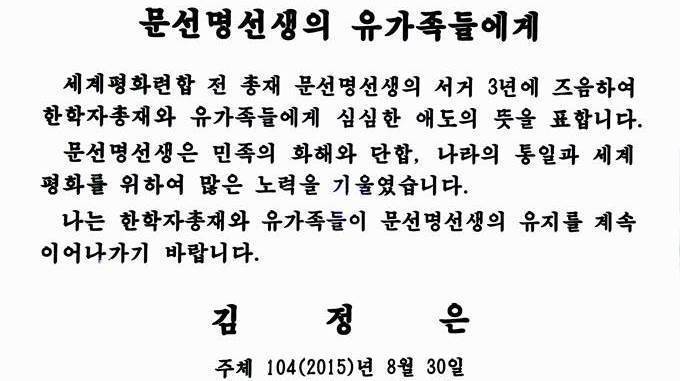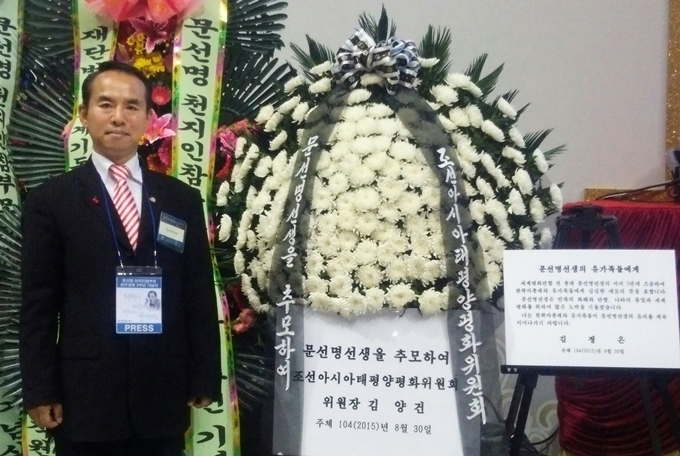 【Multicultural One Family Festival 2015】Multicultural Society Forum 'Keiko Kobayashi'
【Multicultural One Family Festival 2015】Theme Song 'Colors of the Human Race'/ Kirari
【国際交流】大道芸ワールドカップin静岡2014
【ASEAN】ASEANフェスティバル2013
【Summit】The Nuclear Security Summit 2014
【日韓交流】 2013日韓平和シンポジウム 2013한일평화심포지움
【ASEAN】23rd ASEAN Summit and Related Summits
【APEC】2013年インドネシアAPEC
【Sports】TOKYO2020 FINAL Presentation FILM
【JATA TABIHAKU】JATA旅博2013
【日韓交流】日韓交流おまつり2013
【日韓交流】한일축제日韓交流おまつり한마당
【Yeosu EXPO】EXPO 2012 YEOSU KOREA TOUR GUIDE
【Yeosu EXPO】EXPO 2012 YEOSU KOREA
【APEC】APEC JAPAN 2010