Korean Japanese
After the 4 hour and 11 minute long battle, Donna(Auckland, New Zealand) hooked 411.6kg (64 stone) Pacific bluefin.

Unaware of the scale of her catch, Donna and her four-strong team battled for over four hours to drag the gargantuan 8ft 9' tuna onto her boat.
At 411.6kg, the fish weighs twice as much as a baby elephant and could fill 3162 cans of tuna and make 2,875 sandwiches.

'It was a very stubborn fish, but I'm stubborn as well,' said Donna.

The fish is twice the size of a tuna sold at a Japanese auction last year for $1.09million. It could be worth up to $ 2million.

Donna, however, is unable to sell it because the fish wasn't caught on a commercial vessel.

Instead, Donna Pascoe wants to stuff her record-breaking tuna catch and hang it on her wall.

She is now awaiting certification from the International Game Fish Association so she can claim the world record.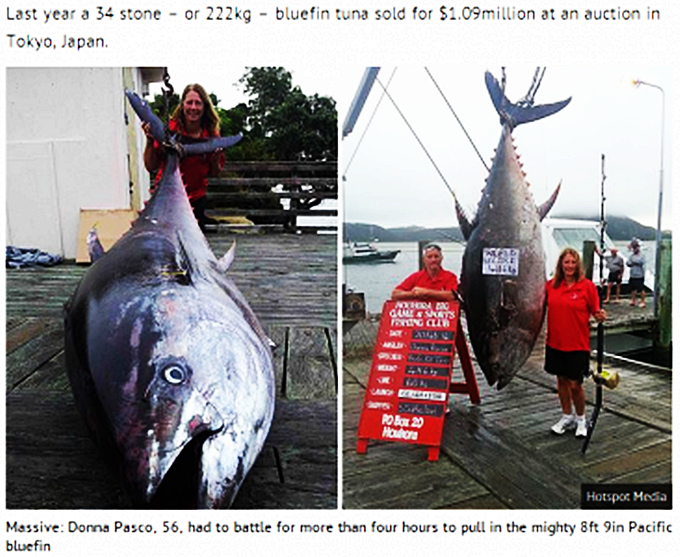 【Fishing】158kg marlin jumped into a boat 거대 청새치가 배 안으로 점프 巨大マカジキが船に飛び込んできた
【Fishing】Boston fishermen catch monster 920-pound tuna 420kgの巨大マグロ釣り 420kg 초대형 참치 낚시
【Fishing】German Fisherman Catches World Record 515-Pound Atlantic Halibut